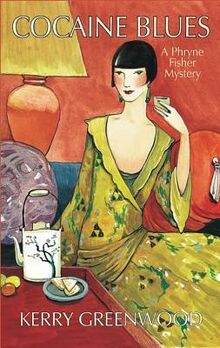 The Hon. Phryne Fisher (January 13th, 1900 – ) was created by Kerry Greenwood and is the heroine of the Phryne Fisher Mysteries and the television show based off of it, Miss Fisher's Murder Mysteries. She is a "lady detective" operating out of her home, 221B the Esplanade, St. Kilda, Melbourne, have come back to the country of her birth at the beginning of the series to look into the case of Lydia Andrews at the request of Lydia's parents.
Miss Fisher notably has many forward-thinking ideas in regards to society, particularly in regards to race, sexuality, and feminism. Though she belongs to the Church of England, she rarely attends and seems to have few real religious convictions.
She was born in Richmond, Melbourne, in extreme poverty though during the First World War several men between her father and 'The Title' died, sending the family to England, a baronetcy, and extreme wealth. She mentions that her father originally intended to name her Psyche, after the love of Eros, though he was drunk at the time of her christening and could not remember the name and so picked Phryne, an Athenian courtesan, instead. For this reason Phryne has somewhat of a grudge against nymphs.
In the books she has one sister who frequently appears, the Hon. Miss Eliza Fisher, a "Fabian Socialist" who works as a social worker, first in London then in Melbourne, who is in a relationship with "her soul mate"[1], Lady Alice Harborough, a fellow Fabian.
In the television series however, no mention of Eliza is made. Instead, Miss Fisher has a younger sister, Jane Fisher, who is deceased at the time of the beginning of the series, have been murdered in her childhood by Murdoch Foyle.
↑ Greenwood, Kerry. Murder on a Midsummer Night. Scottsdale, Arizona: Poisoned Pen Press. 2008
Community content is available under
CC-BY-SA
unless otherwise noted.