Jurassic World: Dominion Dominates Fandom Wikis - The Loop
Play Sound
Murder Under the Mistletoe is the thirteen episode of the second season of the Miss Fisher's Murder Mysteries.
Synopsys
When Phryne, Dot, Mac and Aunt Prudence decide to spend Christmas in July at the chalet of some friends they do not know who will be embroiled in the umpteenth crime. The murderer kills the victims - tenants and guests of chalet- following the lyrics of a famous Christmas song, leaving as warning a Christmas card in the room of the victim. We will discover that behind the heinous crimes are hidden secrets about the past of Aunt Prudence and the tragic death of miners. Jack Robinson is also coming to the rescue of Phryne...
Case
Victims: Len Fowler, Vera Mortimer, Quentin Lynch, and Birdie Fowler
Client: none
Case: Phryne happened to be stuck in a chateau with a serial killer, so she investigated.
Murderer: Nicholas Mortimer
Outcome: Mortimer was arrested. The fate of the gold mine was unspecified.
Plot
Cold Open
The Twelve Days of Christmas plays on a phonograph. Len Fowler is trying to get the pear-shaped lights on the Christmas tree to light up. He turns off the electricity to the string and starts fiddling with them. Someone turns the power back on, and Fowler is electrocuted.
Quotes
Mac: This is a holiday. Must you find murder everywhere?
Phryne: Mac, you know very well murder finds me.
Jack: Stay close!
Phryne: Is that an order, Inspector, or are you just scared?
Jack: Only of you.
Cast
Main Cast
Nathan Page as Detective John 'Jack' Robinson
Hugo Johnstone-Burt as Hugh Collins
Ashleigh Cummings as Dorothy 'Dot' Williams
Miriam Margolyes as Aunt Prudence
Guest-Stars
Simon Burke as Nicholas Mortimer
John Noble as Edward Stanley
George Shevtsov as Chester Groves
Greg Saunders as Quentin Lynch
Alicia Gardiner as Birdie Fowler  
Gallery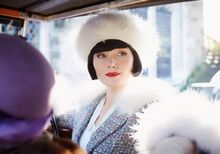 Promotional Trailer