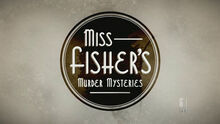 Miss Fisher's Murder Mysteries is an Australian Broadcasting Commission TV drama/mystery show based on author Kerry Greenwood's novels and created by Deb Cox and Fiona Eagger. The show is set in Melbourne, Australia, featuring the Honorable Miss Phryne Fisher (Essie Davis) a rich private detective who solves crimes with a modern feminine flair.
Seasons and transpositions from novels
Although the initial intention of the directors was to faithfully transpose the novels on which the series is based, they soon found themselves having to cut characters and events and add or modify others to meet script requirements. For example, they added Mrs. Prudence Stanley, the aunt of Phryne, who does not appear in the novels. Another plot added exclusively for the TV series is the subplot about Phryne's sister's disappearance and the involvement of an Egyptologist fanatic of eternal life.
Season One was released in 2012, followed by Season Two in 2013.
Season Three is currently under development.
Main Cast
Phryne Fisher (Essie Davis), an independent, glamorous private detective, who is determined to solve any crime.
Mr Butler (Richard Bligh), Miss Fisher's loyal butler, an excellent household manager who provides good advice when needed.
Bert and Cec (Travis McMahon and Anthony Sharpe), two working-class friends and devout communists, who often assist Miss Fisher's investigations.
Jane Ross (Ruby Rees-Wemyss), Miss Fisher's ward, who shares the same name with Phryne's deceased sister.
Aunt Prudence (Miriam Margolyes), Miss Fisher's aunt and a reputation-conscious society matron.
Murdoch Foyle (Nicholas Bell), a former university lecturer imprisoned after the disappearance of Miss Fisher's sister Jane.